Due to the large selection of properties and low prices in the primary and secondary real estate markets of Northern Cyprus, there are objective reasons to purchase a house here by the Mediterranean coast and get a completely new quality of life with complete safety for of your family for a very modest cost compared to European prices.
Regardless of the type of property purchased, whether a flat in a residential complex or a seaside villa, you will get a rare opportunity to enjoy the clean air and the warm sea, heated by over 300 days of sunshine a year. In addition, today, due to new and not very pleasant 2020 global trends related to the pandemic, Northern Cyprus has turned out to be a real gem and security enclave in the Eastern Mediterranean. Due to its partially closed international status and complete isolation from the outside world because of the geographical features of the island nation, the Turkish Republic of Northern Cyprus was the first in the world to defeat the epidemic and is today a completely safe territory free of viruses and crime.
Most of the houses for sale in Northern Cyprus are fully equipped with all necessary household appliances for a comfortable break or permanent residence. Because of this, the buyer of a house or villa can immediately settle in his new Mediterranean nest right on the day of the transaction, receiving the keys straight after signing the purchase contract.
Northern Cyprus offers a unique opportunity to buy a seaside house abroad inexpensively, which can become a second home for your family or an additional source of income if you rent it out to to tourists and holiday-makers. Most districts of the TRNC have a highly developed social infrastructure, since there are shops and supermarkets, restaurants and cafes, all kinds of recreation areas, shopping and entertainment centres close to all residential areas and complexes popular with foreigners. All residential complexes in Northern Cyprus are equipped with:
Pools for children and adults;
Children's playgrounds;
Minimarkets and shops;
Restaurants and cafes;
Car parking.
Would you like to buy an inexpensive seaside villa or house in Northern Cyprus at the lowest price and on the best terms? Then feel free to contact the leader of the consulting services for the acquisition of real estate in Northern Cyprus and get free expert advice from our highly qualified industry specialists.
Owning a home in Northern Cyprus opens up new possibilities for a safe life of leisure
If you have carefully studied all sorts of offers of resort property from different parts of the Mediterranean, you probably noticed the significant difference in the cost of a house in Northern Cyprus compared to other, more expensive countries in the region. In addition to the competitive real estate prices of the TRNC, bearing in mind today's new realities associated with the global pandemic, when choosing a resort property, the priority is not the financial side of the acquisition, in which the real estate of Northern Cyprus is already without equal, but primarily the comfort and security of not having to worry about the health of your family. In today's situation, Northern Cyprus can fairly be considered a real enclave for a comfortable, serene life and complete relaxation without the use of protective masks, to say nothing of the complete absence of crime in the country.
By using our company to purchase a house or a villa in Northern Cyprus, you will receive an expert package of a new generation of consulting services, taking into account all the wishes, requirements and estimated budget for the purchase of real estate, and in particular:
Completely free consultations from start to finish;
Assistance in purchasing low-cost air tickets;
Professional support in the form of viewings;
Full legal support for the signing of the purchase contract;
Assistance in opening a bank account and obtaining a residence permit for Northern Cyprus;
After-sales service and support in setting up your new dream home.
Our experts accompany each client at all stages of the process, from finding a suitable bungalow, villa or your dream home in Northern Cyprus to professional assistance in the process of signing the purchase transaction and subsequent after-sales service.
Benefits of Buying a Home in TRNC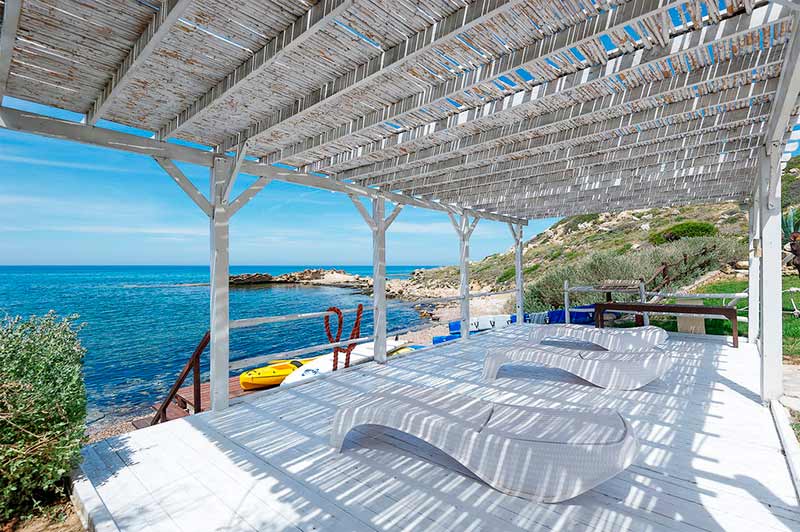 The advantages of acquiring a house in TRNC are as follows:
Prices for houses and villas are several times lower than in other Mediterranean countries, including the neighbouring Republic of Cyprus in the southern part of the island;
The buyer, regardless of nationality, can choose convenient forms and schedule for payment, including:
Interest-free installments from 1 to 2 years (extensions are available);
Affordable mortgage up to 10 years with interest rates from 7 to 12% per annum;
Reasonable household expenses with the possibility of recouping costs through seasonal leasing of property;
The very low property taxes of Northern Cyprus (about £0.13 per 1 square meter per year)
Modest consumer expenditure, taking into account the low cost of local natural food and other essential goods;
A low tax system and favourable conditions for conducting private business;
Large international universities with affordable tuition fees compared to European prices;
Mild Mediterranean climate and warm sea 8-9 months a year;
The absence of crime in the TRNC and the friendly social atmosphere;
The complete absence of COVID-19 in the country and the quarantine system of entry into the territory of the state in order to prevent the spread of the virus on the island.
Comparison table of the average cost of a bungalow, villa or house in different regions of Northern Cyprus:
Classification of objects by type of structure
| Region | Kyrenia (Girne) |
| --- | --- |
| Bungalow, prices from (£) | 84 000 |
| House, prices from (£) | 133 000 |
| Villa, prices from (£) | 160 000 |
| Townhouse, prices from (£) | 120 000 |
| Region | Esentepe |
| --- | --- |
| Bungalow, prices from (£) | 80 000 |
| House, prices from (£) | 111 000 |
| Villa, prices from (£) | 160 000 |
| Townhouse, prices from (£) | 76 000 |
| Region | Famagusta |
| --- | --- |
| Bungalow, prices from (£) | 64 000 |
| House, prices from (£) | 71 000 |
| Villa, prices from (£) | 106 000 |
| Townhouse, prices from (£) | 75 000 |
| Region | Iskele |
| --- | --- |
| Bungalow, prices from (£) | 61 000 |
| House, prices from (£) | 47 000 |
| Villa, prices from (£) | 102 000 |
| Townhouse, prices from (£) | 89 000 |
Buying a villa or house in Kyrenia
If you are planning to buy a house in Northern Cyprus in a picturesque area with a mountainous landscape and stunning sea views, the first place to look is the Kyrenia (Girne) region, which is famous for its homely districts and villages located along the west coast of the island and the Kyrenia mountain range. The port city of Kyrenia is a tourist hub of TRNC, thanks to the picturesque nature and developed infrastructure of the city. Separately, it is worth mentioning the famous Kyrenia gambling clubs, which for some may be an interesting direction for strategic investments in commercial real estate in Northern Cyprus, on which more details can be found in in the buy a casino section.
By purchasing a villa or house in Kyrenia, the you will have in the immediate vicinity:
Many historical sites;
Clean and free municipal beaches;
Mountain landscapes of incredible beauty and stunning views of the sea;
Popular educational institutions;
Entertainment and shopping centres;
Large supermarkets and shops;
The popular Kyreneia market;
The pleasant city promenade and many good restaurants in the old port.
It is also important to mention that the Kyrenia region has the largest number of hotels of various ratings with a unique set of additional services; in particular small boutique hotels, large hotels for receiving a large number of guests, casino and spa hotels. This information will be useful not only for tourists who are planning to visit the Northern Cyprus for the first time, but also for potential investors in the growing hotel business of TRNC, who are considering the possibility of buying a hotel for the purposes of doing business in Northern Cyprus.
Affordable houses in the Famagusta area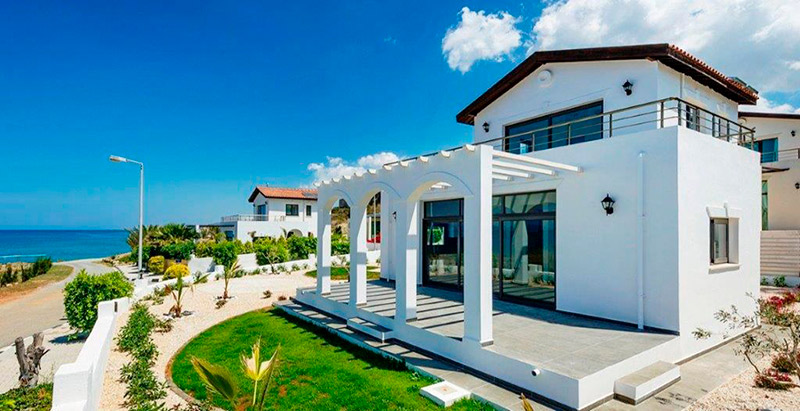 The city of Famagusta is famous for its ancient port and the old Othello castle, spread over a vast territory in which urban life is still in full swing. Famagusta's attractions are represented by beautiful ancient, medieval and modern architecture and many other interesting artifacts.
It is also important to note that buying a house in Famagusta and the area around the city promises good cost savings due to the significant difference in the price of this type of property compared to the Kyrenia region. An additional bonus for future owners of a house in Famagusta who are planning to move to Northern Cyprus in order to provide children with the opportunity to receive an international education at an affordable price is the large East Mediterranean University of TRNC located in the city.
Additional bonuses when buying a house in Northern Cyprus
If you decide to buy a house in Northern Cyprus, your family can count on the following bonuses and privileges:
Obtaining a residence permit in Northern Cyprus in just 21 days from the date of purchase;
The prospect of obtaining citizenship for yourself and all family members;
50% discount on tuition at major international universities of the island valid for foreigners.
Deciding to buy a Mediterranean dream home
The cost of a villa depends on the location, living space, size of the surrounding territory and the presence of a pool. Even in the event that you finally decide to purchase an elite house in Northern Cyprus, you can be sure that its cost will definitely be significantly lower compared to other popular resort countries of the Mediterranean.